It is primarily materials associated with the construction and demolition industries, such as clearing and demolition debris, steel, concrete, brick, lumber, plaster, empty paint cans, asphalt, wire and shingles. However, C&D can essentially include anything stored within buildings, painted on surfaces, or used in construction sites. Although many of these materials may not sound harmful because they are used everyday in our homes and workplaces, when broken down and released into the environment, they can be very dangerous. Despite being excluded from most definitions of C&D waste, much of the hazardous materials involved in construction and demolition is routinely landfilled alongside the nonhazardous material. Even though very toxic pollutants invariably enter the landfill, many states deem C&D waste to be be nontoxic and therefore do not require landfill liners.

ASPHALT EARTH INSULATION

asbestos
building
extruded polystyrene
fiberglass (bat)
roofing

PETROLEUM PRODUCTS

brake fluid
form oil
fuel tanks
oil filters
petroleum distillates
waste oils and greases

PLASTICS

buckets
pipe (PVC)
polyethylene sheets
Styrofoam
sheeting or bags
laminate

ROOF MATERIALS

asbestos shingles
roofing, built up
roofing cement cans
roofing shingles
roofing tar
tar paper

WOOD

cabinets
composites
mill ends
pallets, shipping skids
crating
lumber
particle board
plywood
siding
trees

MASONRY AND RUBBLE

bricks
cinder blocks
concrete
mortar, excess
porcelain
rock
tile

MISCELLANEOUS

adhesives and adhesive cans
aerosol cans
air conditioning units
appliances
batteries
carpeting
caulk (tubes)
ceiling tiles
driveway sealants (buckets)
epoxy containers
fiberglass
veneer
furniture
garbage
glass
lacquer thinners
leather
light bulbs, fluorescent and HID
light bulbs, other
linoleum
organic material
packaging, foam
pesticide containers
rubber
sealers and sealer tubes
sheathing
silicon containers
solvent containers and waste
street sweepings
textiles
thermostat switches
tires
transformers

PAINT

paint contains and waste
paint products

PAPER PRODUCTS

cardboard
fiberboard
paper
fireproofing products
floor tiles

VINYL

siding
flooring
doors
windows

WOOD CONTAMINANTS

adhesives and resins
laminates
paintings and coatings
preservatives
stains/varnishes
other chemical additives

METAL

Aluminum (cans, ducts, siding)
brass
fixtures, plumbing
flashing
gutters
mercury from external switches
iron
lead
nails
pipe (steel, copper)
sheet metal
steel (structural, banding, decking, re-rod)
studs, metal
wire (e.g. copper)

WALL COVERINGS ELECTRICAL
Extent of C&D Waste in the U.S.
On average, 38% of all solid waste generated in the U.S. is construction and demolition waste. This number depends heavily on the state and its policies toward C&D waste. Ohio, which does not require landfill liners for C&D waste, receives the most C&D waste of any state. Although many researchers say that C&D waste is less toxic than municipal solid waste (MSW), they acknowledge that many hazardous materials get in to C&D waste. Some examples are mercury light bulbs, lead roof flashings, asbestos, arsenic-treated wood, gypsum wallboard, and petroleum fluids. Hazardous compounds form what is called leachate during or after rains, which can escape into the soil and groundwater.
C&D Waste Resources
C&D Waste in Pennsylvania
There are currently six construction and demolition waste landfills in Pennsylvania. Their combined maximum volume of waste is 7883 tons per day, or approximately 2,877,295 tons per year. In 2004, Pennsylvania imported 9.1 million tons of municipal solid waste (MSW) and 1.4 million tons of nonhazardous waste, making it the #1 importer of waste in the U.S. Construction and demolition waste is included in the numbers for both MSW and nonhazardous waste, making it difficult to know exactly how much C&D waste Pennsylvania imports. For an overview of waste in Pennsylvania, please visit our Waste Importation page.
Environmental Impacts of C&D Landfills
Landfill Liners
A study conducted for the Florida Center for Solid and Hazardous Waste Management concluded that, even with the best quality control during installation of the liner, one can expect 1 to 2 defects per acre. (Source: "Infiltration Rates Through Landfill Liners," Robert J. Murphy and Eric Garwell, 2/98, #97-11)

Even the strongest double-liner systems fail repeatedly. A report conducted by the Southeast Research Institute reported that only 2 out of 28 landfills studied had no leaks. They determined that, on average, there were 11 leaks per acre. (Source: R.J. Murphy and J.A. Borgmeyer, Evaluation of Leakage Rates in a Geomembrane Double Liner System, Final Report, for A.R.M. Saleh of Camp Dresser & McKee, Inc. and S. Ortolon of Gundle)

The U.S. Office of Technical Assessment reported the three most common geomembrane liner failures are deficient seam welds, deformation due to poor liner subbase, and tears and punctures often caused by vehicles.
Toxic Materials in C&D Waste
Asbestos. This site will be accepting asbestos, which has fibers that can enter the air or water from the breakdown of natural deposits and manufactured asbestos products. Asbestos fibers do not evaporate into air or dissolve in water. Small diameter fibers and particles may remain suspended in the air for a long time and be carried long distances by wind or water before settling down. Asbestos fibers may be released into the air by the disturbance of asbestos-containing material (such as transport or crushing). In general, exposure may occur only when the asbestos-containing material is disturbed in some way to release particles and fibers into the air. Asbestos can be found in many building materials including roofing shingles, ceiling and floor tiles, paper products, and asbestos cement products. Breathing in high levels of asbestos over a long period of time can cause scar-like tissue in the lungs. Breathing lower levels of asbestos may result in changes called plaques in the pleural membranes - this can restrict breathing. The EPA and The Department of Health and Human Services have also determined that asbestos is a human carcinogen. It can increase the risk of lung cancer and mesothelioma.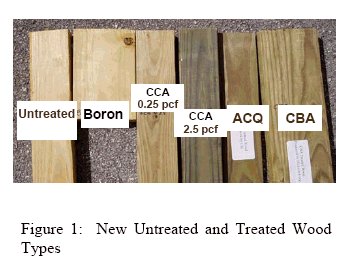 Chromated Copper Arsenate (CCA-) and pentachlorophenol- treated wood. In 2004, after years of research and much discussion, the United States banned CCA-treated wood in most uses. The reason? The arsenic and dioxins in these woods increased cancer risk, birth defects, genetic mutations, interference with hormone functions. Even rubbing against this wood can expose you. This effectively eliminates future threat of our children being exposed to playground structures, decks, picnic tables, landscaping timbers, fencing, patios, walkways, and boardwalks. However, it doesn't impact all of the treated wood currently out there. The ban exempts utility poles, marine pilings, and all plywood!
For as many as 30 years or more, the waste stream of CCA- and penta-treated wood will be strong. There are currently 3.9 million utility poles in Pennsylvania treated with pentachlorophenol that will need to be replaced in the next 30 years. In fact, according to research conducted in Florida, disposal of CCA products will double by 2010 and triple by 2020, as production from the '90s is disposed of (see figure). Once in the landfill, the hazardous chemicals from these treated woods will leach out and may enter the water supply.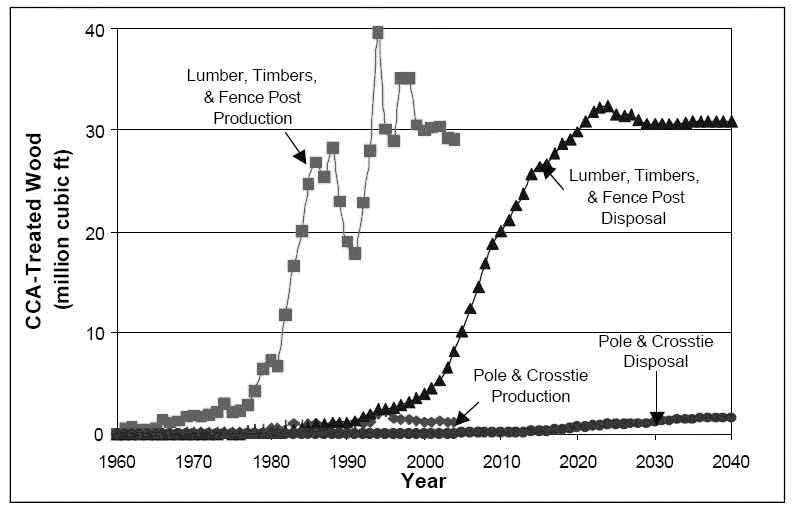 Estimated Production and Disposal Quantities for Lumber, Timbers, and Fence Posts In Florida (Townsend et al. 2001)
Rotten Egg Smell: gypsum board and hydrogen sulfide. The Agency for Toxic Substances and Disease Registry points out that if gypsum wallboard is present in C&D waste, hydrogen sulfide may be produced, particularly if moisture is introduced into the waste. Because of hydrogen sulfide's objectionable rotten-egg odor, C&D landfills that emit hydrogen sulfide often find themselves facing numerous complaints from the surrounding communities. At present, gypsum wallboard commands 15% of the C&D waste stream and is responsible for severe nuisance across the country. The smell can be detected at concentrations as low as 0.5 ppb, but at higher concentrations, H2S can no longer be smelled. It is a threat as low as 1 ppm, dangerous above 100 ppm, and fatal at 1000 ppm. It also causes loss in property value and, needless to say, is extremely nauseating to smell.

Here are some stories about communities afflicted with H2S pollution:

Hydrogen sulfide gas emanating from the Environmental and Recycling Services Inc. C&D landfill, located in Taylor Borough, Lackawanna County, Pennsylvania, caused more than 1,000 students to be evacuated from school. Leading up to the incident in December 2004, the amount of noxious gas continually increased, causing headaches and nausea in students. The Pennsylvania Department of Environmental Protection, under pressure from the school district to prevent more serious problems, installed a state-of-the-art hydrogen sulfide monitor in the school superintendent's conference room. The landfill, which was shown to have bacterial degradation of gypsum wallboard, did not assist with funds, nor were they fined. (Scranton Times Tribune, Monitoring the stench, by Megan Diskin, 01/08/2004)


The Sunset Sand Mine and Landfill is a 75-acre C&D landfill located in Pasco County, Florida, and was a combination sand mine and C&D debris landfill. The site began operating as a C&D landfill in 1990, and one year later residents started complaining about an odor problem. In January 1995 the landfill was closed due to high concentrations of H2S. Residents near the landfill were evacuated twice. In February 1995 county officials reported that the H2S level was 3 ppm at a quarter mile around the landfill. Levels reaching 205 ppm were found on site at ground level. At a height of more than 4 feet off the ground the H2S concentration decreased to 50 ppm. The landfill owner had a cover layer of soil and clay placed over the exposed waste. On May 7, 1995 in the St. Petersburg Times reported that neighbors of the Sunset Landfill still experienced problems associated with H2S.


A landfill in Danbury, New York, presented a problem beginning in August 1996. The rotten egg odor caused health problems, decreased property values, and in one extreme case, forced a family out of their home. The 40-acre MSW landfill that used a gas collection and flares, closed in December 1996. Florida Department of Environmental Protection (FDEP) officials say heavy rainfall, 17 inches more than normal in 1996, contributed to the odor problem.

Source: - Reinhart, Debra. Control of Odors from Construction and Demolition Debris Landfills, Civil and Environmental Engineering: University of Central Florida, August 31, 2003.
Other contaminants in the leachate. Although asbestos, CCA- and penta-treated woods, and hydrogen sulfide are particularly bad pollutants, there are many more that can enter the soil and groundwater from leaks or defects (we already talked about how many there are!) in the landfill liner. The big list is above – but many of these contaminants require special attention. These include well-known heavy metals, such as mercury, lead, and cadmium (from lights, batteries, and venting systems); PCBs (Poly-chlorinated Biphenyls) from security lamps; laminates, stains, and veneers for wood products; and petroleum based products (Recommended Management Practices for the Removal of Hazardous Materials from Buildings Prior to Demolition, 2nd Edition," T. Townsend, 8/04, #0232009-04). The information on these contaminants and asbestos was taken from the Agency for Toxic Substances and Disease Registry website. You can look for this information at: http://www.atsdr.cdc.gov/:
Lead: Lead can affect almost every organ and system in your body. The most sensitive is the central nervous system, particularly in children. Lead also damages kidneys and the reproductive system. The effects are the same whether is breathed or swallowed. Lead may decrease reaction time, cause weakness in fingers, wrists or ankles and possibly affect the memory. Lead may cause anemia. It can also damage the male reproductive system. The Department of Health and Human Services has determined that lead acetate and lead phosphate may reasonably be anticipated to be carcinogens based on studies in animals.


Cadmium: Breathing high levels of cadmium severely damages the lungs and can cause death. Eating food or drinking water with very high levels severely irritates the stomach, leading to vomiting and diarrhea. Long-term exposure to lower levels of cadmium in air, food or water leads to a buildup of cadmium in the kidneys and possible kidney disease. Others long-term effects are lung damage and fragile bones. The Department of Health and Human Services has determined that cadmium may reasonably be anticipated to be a carcinogen.


Dioxin: In addition to cancer, exposure to dioxin can also cause severe reproductive and developmental problems (at levels 100 times lower than those associated with its cancer causing effects). Dioxin is well-known for its ability to damage the immune system and interfere with hormonal systems. Dioxin exposure has been linked to birth defects, inability to maintain pregnancy, decreased fertility, reduced sperm counts, endometriosis, diabetes, learning disabilities, immune system suppression, lung problems, skin disorders, lowered testosterone levels and much more. (Source: http://www.ejnet.org/dioxin/)


Mercury: Exposure to very high levels of metallic mercury vapor can cause brain, kidney, and lung damage and may seriously harm a developing fetus.


PCBs: PCBs interfere with many biological functions, including the immune system, the nervous system and several endocrine systems, and the fetus appears to be particularly vulnerable to these actions. PCBs are known to cause cancer, immune system depression, and alter steroid function. (Source: http://www.copa.org/2003/congress/pcb-health.html)


What are the alternatives to a C&D landfill?
One good reason not to construct a landfill is that doing so makes it cheaper overall to dispose of waste, and thereby encourages further waste while discouraging alternatives. Fortunately, there are many good ways to use an undeveloped piece of land that do not involve landfilling. If something must replace the C&D landfill, then here are a few options:
MRFs. The process of recycling construction and demolition debris has developed and continues to develop into a very large industry. One local company, the HK Group, separates and recycles wood, steel and concrete. For mixed demolition debris (such the debris a landfill would import), materials recovery facilities (MRFs) have been constructed to facilitate the separation of materials. At a MRF, waste materials are separated by a combination of mechanical and manual means. This usually means crushing waste and then separating it into useful groups. Some ways this is done:
Asphalt shingle roofing

utilization as an energy source
use as an additive to cold-mix paving compounds
use as an additive to hot mix asphalt (greatest market potential)
use in general paving mixtures
production of roofing materials.

Concrete pavement is recycled by processing (crushing) it into an aggregate material, which can then be used as a base or fill material. There is a tremendous demand for recycled concrete in the pavement and paving industries and no significant barriers to the re-use of concrete pavement. It cannot, however, be used in structural applications.
Asphalt pavement is generally recycled directly into new pavement. It may also be used as an aggregate material. There are no significant barriers to the re-use of this material.
The gypsum can be used in the manufacture of new wallboard, as a soil additive, as a fertilizer additive, in agricultural operations, and in composting operations. The gypsum will raise the pH of a soil and act as buffer. The paper backing can be shredded and used as animal bedding. The barriers to larger scale recycling of gypsum wallboard are product quality perceptions, economic issues, and product quality control.
Wood is shredded or chipped for composting, mulch, and landscape applications.
Steel is separated and sold to scrap metal dealers
C&D Waste Diversion Construction / Deconstruction. Instead of directly disposing materials, a company separates the materials at the build or demolition site and seeks to reuse as much as possible and recycle the rest. Workers generally sort the material into separate bins, which are collected by local C&D waste recycling firms. The Consigli Construction Company has proved that this can be a highly profitable and more environmentally friendly manner of building. Their efforts were rewarded an EPA WasteWise Recycling Leadership Award.
Useful Links for Deconstruction
---
References
CCA and Penta References
Zartarian, V.G., Xue, J., Özkaynak, H., Dang, W., Glen, G., Smith, L., and Stallings, C., 2003. A Probabilistic Exposure Assessment for Children Who Contact CCA-Treated Playsets and Decks. U.S. Environmental Protection Agency, Washington D.C.
U.S. Consumer Products Safety Commission (U.S. CPSC), 2003. Petition to Ban Chromated Copper Arsenate (CCA)-Treated Wood in Playground Equipment (Petition HP 01-3). U.S. Consumer Products Safety Commission, Bethesda, Maryland.
Maas, R., Patch, S., Berkowitz, J.F., 2003. Research update on the health effects related to use of CCA-treated lumber. Chemistry in New Zealand, June Issue: 25-31.
McQueen, J. and Stevens, J. 1998. Disposal of CCA-Treated Wood. Forest Products Journal, 48, 11/12, 86-90.
Doyle, E., and Malaiyandi, M., 1992. Field Study to Investigate the Leaching and Dislogeablility of Copper, Chromium, and Arsenic from CCA-C Treated Lumber and to Evaluate Means for Reducing Environmental Contamination and User Exposure. Health and Welfare Canada, Ontario, Canada.
Townsend, Timothy, Solo-Gabriele, H., Tolaymat, T., Stook, K., and Hosein, N., 2003b. Chromium, Copper, and Arsenic Concentrations in Soil Underneath CCA-Treated Wood Structures. Soil & Sediment Contamination, 12: 1-20.
Townsend, Timothy, Kristen Stook, Thabet Tolaymat, Jin Kun Song. "New lines of CCA-treated wood research: in-service and disposal issues," Gainesville, Florida: Florida Center for Solid Hazardous Waste Management, 19 March 2001.
Feldman, Jay and Terry Shistar "Issue #379: Poison Poles" Their Toxic Trail and the Safer Alternatives." National Coalition Against the Misuse of Pesticides, February 4, 1997.
Hydrogen Sulfide References
Crosson, J., 1995. "County Focuses On Mine Security; Hydrogen Sulfide Gas Problems at Sunset Mine and Landfill Prompt Concern," The Tampa Tribune. February 15, 1995. Pasco Section. Page 1.
Flynn, B., 1998. "Invisible Threat: Odors & Landfill Gas From C&D Waste," Waste Age. January, 1998. 91-97.
Flynn, B.E., "Sulfide Treatment Technologies for Sour Landfill Gas," Waste Age, p. 155, September 1996.
Francoeur, C. M., "H2S Control for the Landfill Industry," Proceedings from the SWANA 16th Annual Landfill Gas Symposium, Louisville, KY, March 23-25, 1993.
Smith, A.C., 1995. "Dumps Neighbors Smell a Conspiracy," St. Petersburg Times. Pasco Times. Page 1. May 7, 1995.
Cochran, Kim. "Government Issue," Infrastructure Service Group of R.W. Beck, 5/28/2002 <http://www.recyclingtoday.com/articles/article.asp?Id=4402&SubCatID=43&CatID=11>.
---
Last modified: 2 April 2005
http://www.actionpa.org/waste/cd/