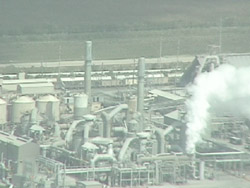 Water Fluoridation Chemicals
Manley Regan Chemicals / Vopak

Production in Middletown, PA
Production in Bunola, PA

Chemtech Products / Solvay

Distribution in Philadelphia, PA

Lucier Chemical Industries (LCI)

Distribution in Philadelphia, PA
Water Fluoridation Chemical Accidents throughout the U.S.
Fluoridated Chemical Production and Industrial Fluoride Releases & Accidents
Other Fluorinated Chemical Production in PA
Air Products and Chemicals is the primary producer of fluoridated chemicals in Pennsylvania. Their Hometown plant in Tamaqua, Schuylkill County is the only producer of fluorine in the U.S. In 2001, Air Products expanded fluoridated chemical production at their Hometown plant and at their Solkatronic subsidiary's plant in Morrisville, Bucks County. Read about Air Products' Accident History and their expanded production of chemicals for the electronics industry.

Another major fluoridated chemical polluter is Cabot Performance Materials, a military contractor with plants in Reading, Boyertown (Berks County) and Revere (Bucks County). Their Boyertown facility's fluoride and other chemical pollution has been implicated in damage to local farms.