2009 Pennsylvania Mandatory Fluoridation Bill
Pennsylvania HB 1382 was introduced by Democrat Rep. dePasquale on April 29, 2009 and referred to the PA House Health & Human Services Committee. (This bill apparently replaces Republican Rep. Barrar's HB 584.) In the past two legislative sessions, this bill breezed through the H&HS committee with no hearings.
This time, thanks to alert people in the Commonwealth, the bill died in committee.
---
Taking action to stop fluoridation
House Bill 1382 (and 1649, 1588, 761, 595...)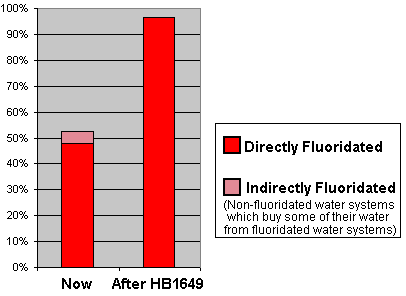 State-wide mandatory fluoridation legislation has been proposed in nearly every legislative session since 1987, but none have become law.
House Bill 1382, The Fluoridation Act, would force water fluoridation on all Pennsylvania drinking water systems serving over 500 customers. This means that water fluoridation would roughly double, from around 50% to 98.1%.
All customers will still be affected when they purchase food products made with water in fluoridated communities.

Due in part to the efforts of Pennsylvania activists, these legislative attempts to force fluoridation were stalled.
---
Would your water system be affected?
Is your water system already fluoridated? Does your water system serve over 500 customers? Check our Fluoridation Map to find out.

The Top Ten largest water systems which will be impacted by the Fluoridation Act are:

County     Customers  Water System
Montgomery+  820000   Aqua PA Main System
Erie         180000   Erie City Water Authority
York         153123   The York Water Co
Westmoreland 140000   Westmoreland Municipal Authority - Sweeney Plant
Lackawanna   134570   Pa American Water Co - Lake Scranton
Fayette      130000   Westmoreland County Municipal Authority - Yough Plant
Montgomery    87954   PA American Norristown
Dauphin       86500   United Water Pennsylvania
Montgomery    69199   North Penn Water Authority
Montgomery    64257   North Wales Water Authority

---
"I don't think this should be a local decision"
-State Rep. Tom Tigue, 2005 sponsor of the Fluoridation Act
---
"When HB 939 was introduced to my committee, I asked my staff to research the subject and they reported to me that there is no scientific or medical evidence that would indicate any particular benefit from fluoridation of public drinking water. As chairman of this committee, it is my policy not to move any legislation from Committee that would not result in a positive benefit to public health, safety or welfare."
-State Rep. Arthur Hershey, Former Chairman of the Environmental Resources and Energy Committee in a June 16th, 1999 letter to Pennsylvania anti-fluoridation activists
Support Local Choice, Not State-Mandated Fluoridation!
Find e-mail and telephone information for your state representative here (contact representatives at their Harrisburg locations, rather than their local offices)
Contact local media outlets and make your opinions heard here
Promote the bill for safe water here, while opposing fluoridation bill

---
*From above: Given that there are 10,467,565 water system customers in the state, this would increase the number of forced fluoridation customers from 4,989,184 (47.7%) to 10,110,814 (96.6%). When including customers affected by secondary fluoridation (a non fluoridated system with water from a fluoridated system), the increase will be from 5,479,723 (52.3%) to 10,120,143 (96.7%).
---
Return to Fluoridation in Pennsylvania page
Return to ActionPA home

Last modified: 22 December 2010

http://www.actionpa.org/fluoride/bills/